Mothers Helpers provides a 10 week Perinatal Depression/Anxiety Recovery Course…The majority of mums who have attended the course have showed remarkable improvements.  65% of mothers attending fully recover from Postnatal Depression, 100% have shown massive improvements in their depressive symptoms and continue to improve with an average of 51% improvement in Edinburgh Depression scores.  All mums who have completed the course can go on to have counselling with your facilitator.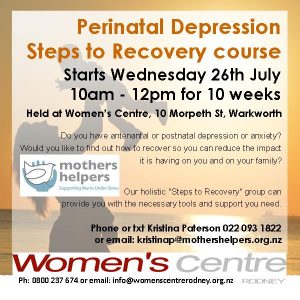 Next FREE 10 week course starts Wednesday 26 July 2017 in Warkworth
Weekly from 10am – 12pm at the Rodney Women's Centre, 10 Morpeth Street Warkworth.
We are also running course's online (via skype) @ $20/session or FREE with Community Services Card. Next course starts July 2017
There is also the opportunity to join a course on Friday evenings 7:30pm in Parnell ($60/session or FREE with Community Services Card)
Here's What Some of the Mums are Saying About It:
"The Mother's Helpers PND course is amazing and invaluable for anyone experiencing post natal distress. It provides practical and insightful content to help you discover more about yourself and get you on the road to recovery. The caring and empathetic support I received from the course leader and other participants was amazing!" ~ Bridget
"I found the PND Course to be very helpful.  All of the information about preventing and managing PND was in one resource.  Going through a topic each week helped me take small steps.  Talking and listening to women who also suffer from PND helped me realise I wasn't alone."~ Barbara
"A couple of weeks ago now I finished one of the PND courses at St Heliers. I just wanted to say how amazing it was! I really enjoyed the group counselling sessions, which I wasn't so sure about at first. But it was just great knowing other mums that had gone through the same things I had. And the support was just invaluable, both from the other mums there and our counsellor. The sessions were also amazing, I learnt so much from them all and they have really helped me. I cannot highly recommend this course enough. It's just been wonderful. I'm so happy I found Mother's Helpers." ~ Megan
Content of the 10 Week 'Prevention & Recovery from Postnatal Depression' Group
1. What is Postnatal Depression & Anxiety?
2. Medication & Alternatives
3. Counselling (CBT)
4. Exercise
5. Diet
6. Risk Factors, Stressors & Triggers
7. Mindfulness, Meditation & Other Methods
8. Self-care & Self-esteem
9. Management of Long-term Depression & Preventing Relapse
10. Specific Advice for Partners
We have limited spaces available so Book Now
For More Information:
What You Would Get Out of the PND Recovery Course
Or Enquire Now