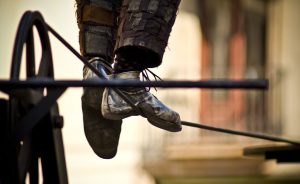 It would be fair to say that for some mothers who have developed perinatal depression/anxiety, the "temperament" that researchers speak of that make some mothers more prone to developing it than others is not only that we're naturally a sensitive soul, but we can also place high unrealistic expectations on ourselves – setting ourselves up to fail and becoming disappointed with ourselves time and time again.   Whether you are recovering from your first episode of perinatal depression or you are challenged with the ongoing management of chronic depression, dealing with those unrealistic expectations is vital to our wellbeing.
As a person who now manages chronic depression (quite likely as a result of delayed diagnosis and treatment of my antenatal and postnatal depression), I certainly have these characteristics as part of my temperament and learning to deal with those high expectations is something that will be a life-long challenge for me.
In those days, dealing with a newborn baby – I expected that I would bond and absolutely fall in-love with my baby… I was blindsided (and later grieved the loss) by my traumatic birth and the hospital's negligence by significantly delaying the opportunity for me to hold my baby post-birth, the breastfeeding problems I experienced and how I was at high risk of developing postnatal depression.  I expected that I would be able to breastfeed well.  I expected that I would find things a lot easier than I did.  I expected that I would be able to cope with everything, despite a strained (and failing) marriage and insufficient support and my mother going into hospital for chemo the same year my baby was born and my marriage dissolving.  I didn't know where to go for help, but I also expected that I should be able to manage this all on my own without help and I felt that I was failing because I wasn't coping and it was hard to admit it.
These days, I am well and high-functioning and very often I forget that lurking in the background is a mental illness that I will have for the rest of my life.  I still don't want to have it.  I would still like to ignore it and pretend it didn't exist.  I still have these high expectations of myself to achieve this or to meet demands as if I do not have a mental illness that I have to be mindful of.  And then the old "black dog" lingers on the edge of my yard (ironically I have an actual black dog but she's rather nice and cuddly and has a habit of licking me rather than biting me although she is a puppy and still chews a lot of my son's toys which is really annoying.)
It's not about being a victim and letting depression define you – living under the banner of "I can't" – it's about being realistic and above all, it's about being kind to ourselves.  I have chronic depression.  The unrealistic expectations I have of myself to be super-human is ridiculous.
If you want help for the stress or depression/anxiety you are experiencing, please fill in this online form
~ Kristina Paterson (Founder of Mothers Helpers)