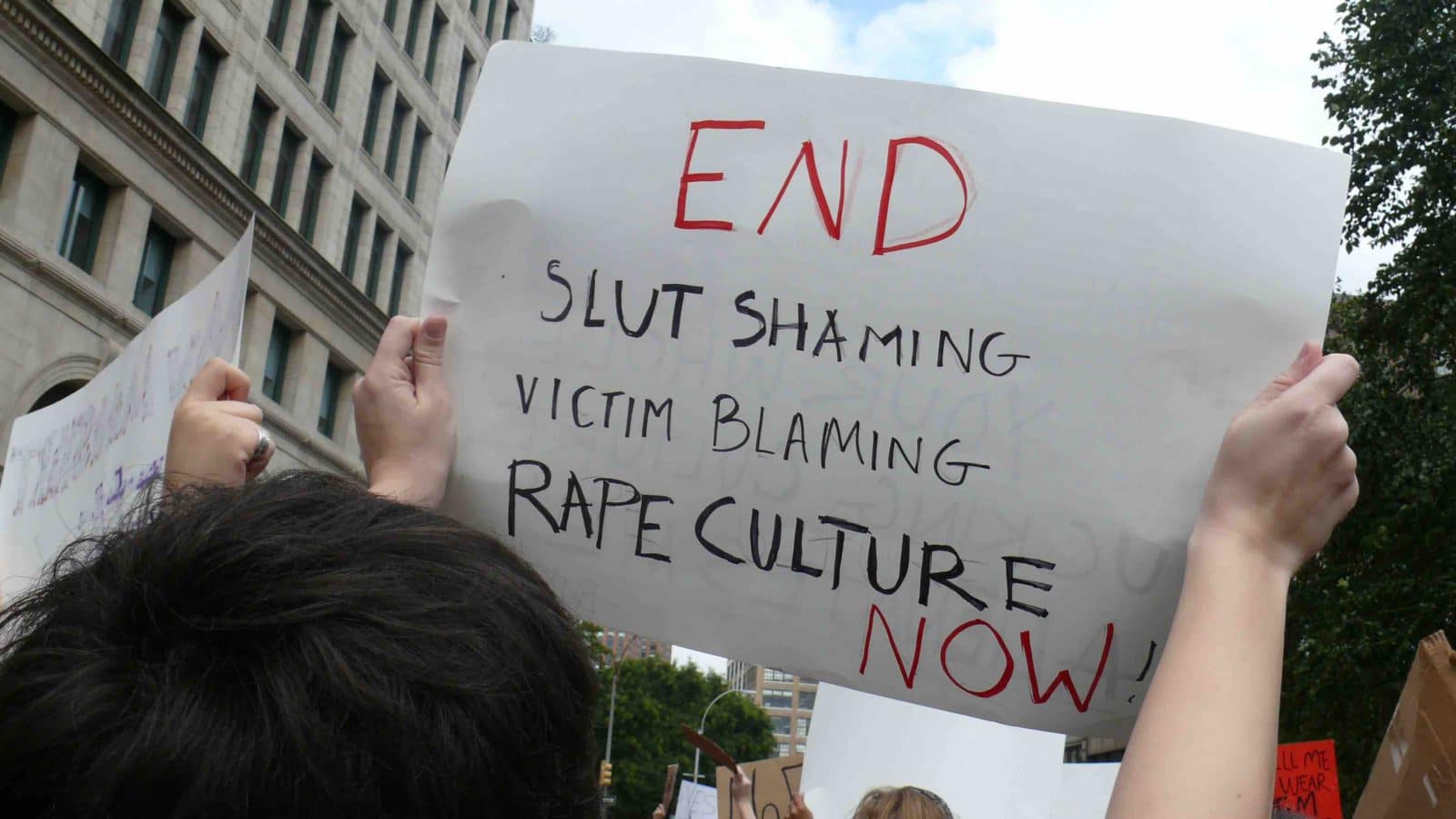 – Written by Kristina Paterson
** TRIGGER WARNING:  MENTIONS RAPE **
If I am really honest, when the mood suits me, my favourite genre when movie-watching is most definitely drama.  Not everyone's cup of tea, but I love stories that move me, inspire me, provoke thought.  I love to analyse the interesting characters that good story-tellers have taken the time to develop.  What I don't love is unnecessary drama in my personal life – life is stressful enough without looking to add to it.  Facebook drama has to fall into the category of unnecessary drama, and I tend to avoid it wherever possible.  In fact, it's something I often encourage my clients to avoid too.  Unnecessary drama (like debates with keyboard warrior strangers online) is often a conflict that tends to harm our mental health as opposed to growing our character.  So it was to my surprise that I found myself in the midst of an online drama earlier this week.
A Solo Parents NZ Facebook group with 10,000 members had a post in which a member had described a recent experience of date-rape.  In response, one of the group's (male) administrators had responded with these words:  "Lesson Learned.  Sounds like you've given yourself a stern talking to.  Don't beat yourself up – unless you make the same mistake again."
Hold on, wait a minute – back up……  What??
"Lesson Learned" and "Made the same mistake again?"  What exactly is he saying here?
He's saying that she had made the mistake of putting herself in a situation where someone had taken advantage of her sexually when she was unable to give consent.  It was her mistake.  It was her lesson to learn.  This is an example of victim-blaming.
First, she is not responsible for his actions.  The only time that sex should occur is when consent is given.  When a woman is drugged or drunk  – she cannot consent.  If you have had sex with someone when they have not given consent or not been able to, that is on you, NOT on her.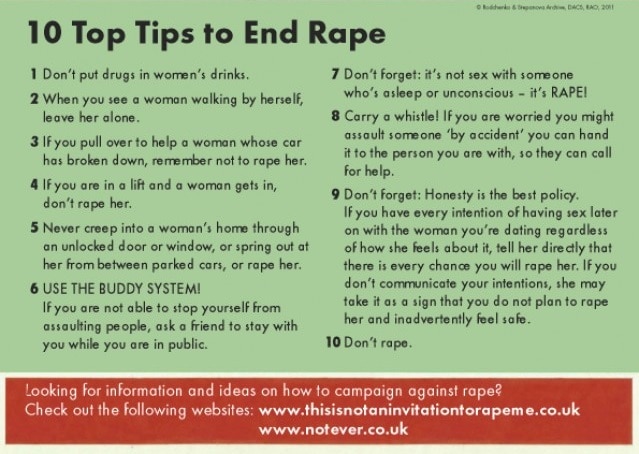 Why is this message so harmful?
 Almost always, experts say that those who have been a victim of rape experience shame – internalising the emotional and mental trauma of their experience by blaming themselves.  Victim blaming reinforces this.
It shuts a person down from speaking openly about their experience which in turn means that they are less likely to get psychological help for their experience and without such treatment, they can develop depression and post-traumatic stress disorder – a common response to the experience of rape.
Experts say that the experience of victim blaming frequently comes up in psychological treatment.  For the victim, it feels like a secondary trauma or even described as a "secondary assault" for the person.
Victim blaming increases symptoms of depression and anxiety and increases suicidal ideation.
It also decreases the person's chances of reporting future abuses because of the negative experiences they've had when reporting it the first time.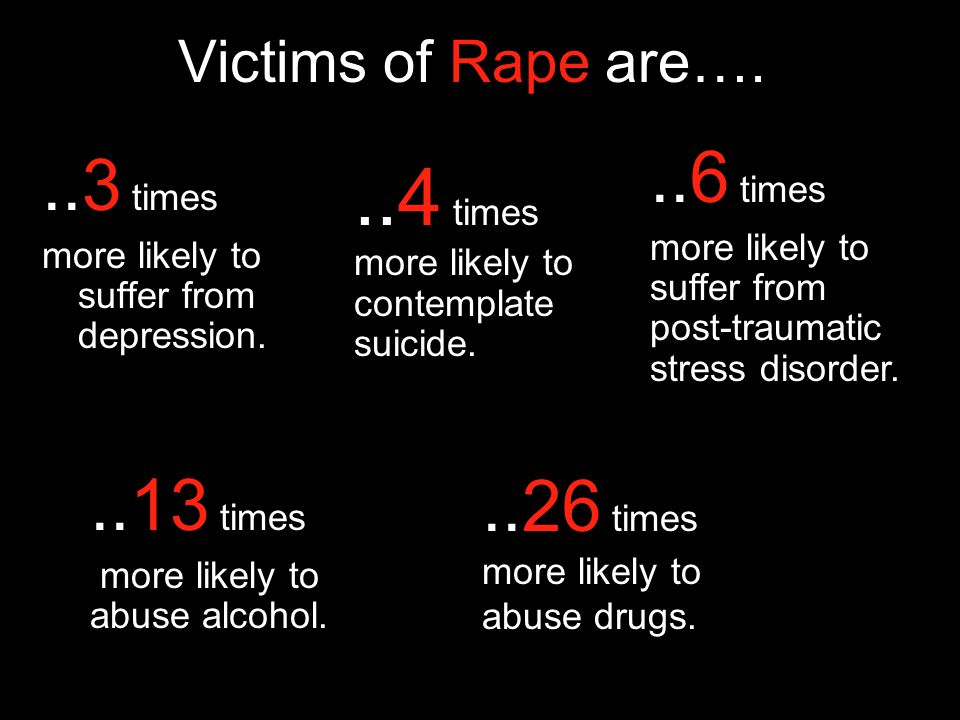 In addition, victim-blaming actually provides a platform in which rape can occur.  Take a look: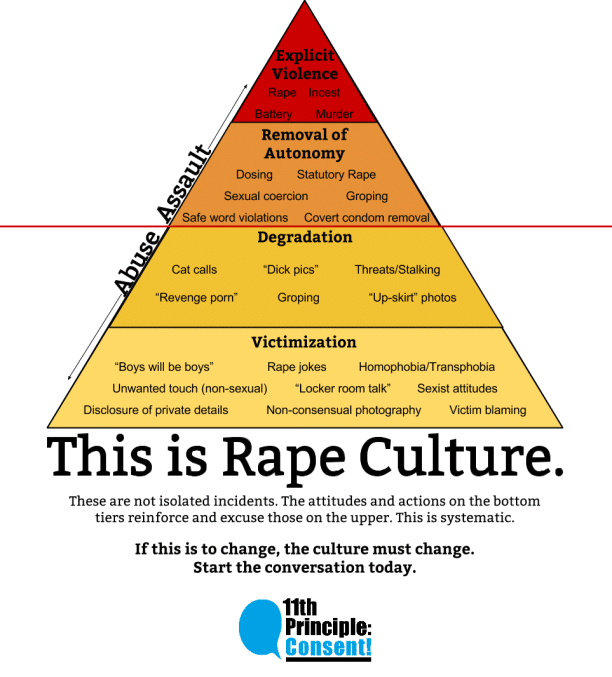 So What is Victim-Blaming?
Victim-blaming focuses on what the victim (of the rape) could have done differently in order to prevent the rape from occurring – therefore, implying that the fault lies with the victim rather than the perpetrator.  They may be made in the form of comments like the ones made by the admin above, or questions like "what were you wearing?" or why questions – "why did you bring him over to your place?"  Other common comments/questions focus on her being in a bad neighbourhood,  being intoxicated, wearing a provocative outfit.  The language draws attention to the victim rather than the perpetrator.
Victim-blaming contributes to a rape-culture.  Rape culture minimises and even normalises sexual advances without consent, and shifts all or part of the responsibility to the victim when the perpetrator is entirely responsible for his own actions.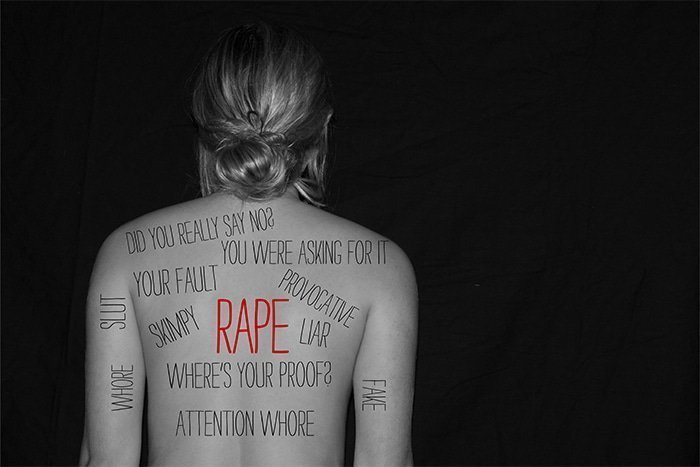 Why does Victim-Blaming happen?
There is wide acknowledgement that sexual assault is more about power than it is about sex, so a bunch of researchers decided to examine how feelings of power and powerlessness in men and women affected whether or not they blamed a victim.  The results were interesting.  They found that men who felt more powerful had a greater tendency to blame a victim, while men who felt more powerless were less likely to.  The opposite was true for women –  women that felt more powerless were more likely to blame a victim.  In fact, women who have been a victim themselves are likely to victim-blame too.
Why women victim-blame
Experts believe that for women who feel powerless (including those who have been a victim to rape), it's frightening and sometimes difficult to accept that bad things happen to good people and that there are in fact terrible things that can happen to us outside of our control.  It far less scary to believe that we always have control over what happens to us, and in fact – a comforting thought to be able to say "this won't happen to me if I'm careful" or "this won't happen to me again."
Why men victim-blame
The opposite is true for men than women. Men that generally feel powerless are better able to have an understanding and empathetic perspective towards the victim that did not lead to victim-blaming comments or questions.  Men that generally feel powerful are more likely to ask victim blaming questions or make victim-blaming comments.  Given that we still live in a patriarchal society, where it is still true that in New Zealand men hold a position of power rather one of equality with women (look at pay-parity, look at the imbalance around the number of men vs. women holding positions of power), is it any wonder that rape culture exists in New Zealand?  And if you're still not convinced, consider why we had the 2013 scandal involving "a group of predominantly West Auckland youths who allegedly bragged on a Facebook page about having sex with drunk and underage girls?"  Or why in 2015 we had reports of "senior boys from an unnamed New Zealand secondary school plying young girls with alcohol and recording sexually degrading acts in a competition to see how many girls they could get into compromising photos?"  Or why just last year we had Wellington College in the news following a Facebook post that said ""If you don't take advantage of a drunk girl, you're not a true WC boy?" At the time, their principal was more concerned with the reputation of the boys and their future prospects than the impact of what they were saying and doing to the young women.  We have a culture where 1 in 3 NZ women will experience physical/sexual assault from their partner at some point in their life.  There is no doubt that rape culture in New Zealand exists.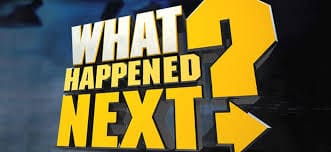 So, knowing all of this, I had immediate concerns about the administrator's response on this Facebook group and other similar comments that had been permitted by the admin team.  I shared my concerns with the other administrators and they defended their admin mate:
I had misunderstood him
I was over-reacting
I was being black-and-white about it
I was throwing a tanty
I was being immature
It was obviously from a personal vendetta I had against this admin
And anyway, maybe the guy had been drinking (therefore, wasn't to blame for his actions)?
I was then removed from the group (where I frequently posted about opportunities for Solo Parents to benefit from Mothers Helpers' services).
Another professional – a counsellor – shared with me that she had also made a complaint to the other admin about their mate's comments and admin simply said that they would talk to the administrator in question and get back to her.  They never did.
So I got louder.  I shared my concerns on other Solo Parent's Facebook groups.  I was genuinely concerned not only about the attitudes and discernment of the administrators of this group, but I was concerned for the safety of 10,000 Solo Parents posting personal stories not unlike this one, many of whom would be in very vulnerable stages in their life.
In response, the administrators posted up an announcement about why they had removed me and the comments that followed from them and the rest of the group were permitted to continue for days.  The comments in the 10,000 strong group became personal – not only directed at me (describing me as "crazy") but also directed at my partner.  This not only sent the message to me that I need to "stop calling him out on this," it sent a message to the 10,000 people in the group that they should never call them out – and certainly never call out this male administrator in a position of power. Consequently, most of the members did not have the courage to disagree with them, and they saw first hand how they would be punished if they did – not only by being removed but also by being publicly discussed, criticised and mocked upon removal.  It just wasn't safe to disagree with the admin who had victim-blamed a woman who had just experienced rape.
This raises the issue of Admin Abuse on social media…
The photo above is a bit tongue-in-cheek, taken from the urban dictionary… and while it might be "super annoying" to be removed from a counter strike game for "killing the admin," the abuse of power by administrators in facebook groups has the potential to be far more harmful.  After all, the role of administrators is to protect their members from comments that might cause them harm, right?  But what if the administrators are the ones making those comments?
It's not easy being a change-maker, and while I am used to the bumps and bruises that come with the backlash you receive when you are trying to create social change, it is still not easy being cursed with both the courage to speak out when needed and the sensitivity to be affected by the backlash.  So if I find it hard, I'm confident that other women do too.  And if I'm "punished," silenced or shut down for speaking out when needed, other women will have this experience too.  So what can we do?
 If you are going to share a personal story in a Facebook group, make sure that you are doing so in a safe space:  It's not enough that it is a "closed group" or a "secret group."  A "safe space" means that administrators do not tolerate abuse, judgmental criticisms or victim-blaming.  Victim-blaming is not exclusive to rape but also occurs when people are a victim of a car crash, a crime, family violence. Watch the reactions of the administration of the group – what comments do they make and what comments do they permit?
Check your own reactions to a person's story:  Acknowledge to yourself that the story makes you feel uncomfortable and afraid.  It is natural to seek comfort from the idea of "this will never happen to me because I would never put myself in this position."  Acknowledge that we prefer the idea that we have control over what happens to us rather than the idea that we don't.  Come back to focusing on what the person bravely sharing her story needs most at this time:  support, empathy, the message that this is not her fault and information on where she can go for help.
Be brave and have brave conversations:  Whether you are a man or a woman, if you see victim-blaming or anything that supports rape culture, call it out. Be prepared for some backlash. Especially if you are calling out someone who is in a position of power.  If you see someone else calling out victim blaming, know that they are likely to experience backlash and the more outspoken they are about it (refusing to be silenced), the more they will need to be supported.  Be that support both publicly and privately.  Speaking up is not easy and a lot of women who have made a conscious decision to stand up and speak up often feel tired and beaten down by the conflict and the endless explaining of "why this is not okay" while they remain committed to changing New Zealand rape culture. Their strength and energy will be restored when they have support around them.  Men and women, get behind them.
Take care of yourself:  If you have been a victim of rape, recognise that this might not be a battle that you need to fight directly.  Don't put yourself in a position where you will be re-triggered or re-traumatised.  There are other ways in which you can protest victim-blaming behaviour:  you can message the victim with a kind and caring message, you can click on a facebook post and "report to admin" or "report to facebook," you can private message your support to someone who calls them out on it, you can remove yourself from the group.
Say something or leave groups that allow victim-blaming – silence and doing nothing ensures it continues:  If you do not feel safe to speak up when you see victim-blaming in Facebook groups, then at the very least, protest with your "Leave Group" button and encourage others to do the same.  There is something we can do about the 1 in 3 women experiencing violence and/or sexual assault in this country.  We can start by addressing rape culture when we see it.
Thank you to the men and women who called out the victim-blaming comments in this instance, went into bat for me and special thanks to my partner's unwavering support.
If you are looking for a 'safe space' to discuss your experiences as a sole parent, we recommend Separation and Sole Parent Support
If you have been a victim of rape and would like to talk to someone about it, you can find your nearest sexual assault support centre here
If you have been triggered by this article and would like to talk to someone about it, please call or text 1737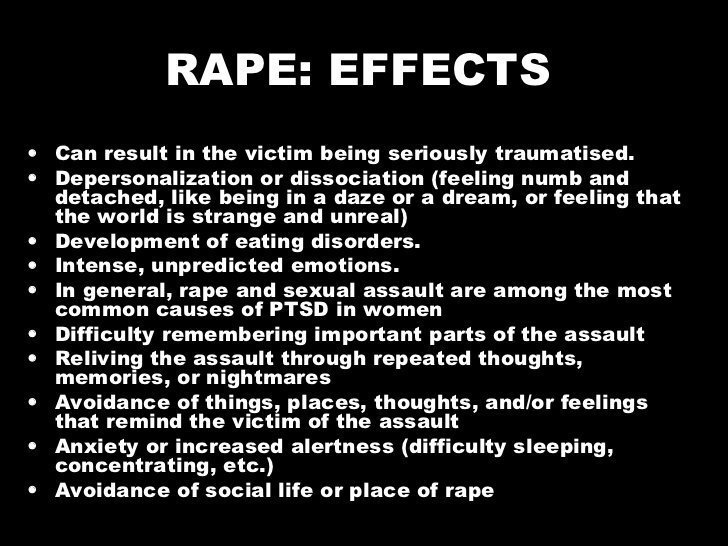 Kristina Paterson is the founder of Mothers Helpers – a nationwide organisation supporting women who experience Perinatal Depression/Anxiety.  She is author of the programme titled "Perinatal Depression:  Steps to Recovery" which has proven to effectively treat depression and anxiety.  She has 15 years experience as a Registered Nurse and now with a Masters in Applied Social Work from Massey University, she works as a registered social worker and manager of the Charitable Trust.
Further reading:
https://www.bartleby.com/essay/The-Effects-of-Rape-Culture-in-Modern-P35TCRYTC
https://www.nzherald.co.nz/lifestyle/news/article.cfm?c_id=6&objectid=11832126
https://health.usnews.com/wellness/articles/2016-04-19/the-psychological-impact-of-victim-blaming-and-how-to-stop-it
https://www.goodtherapy.org/blog/psychpedia/victim-blaming
https://www.psychologytoday.com/us/blog/supersurvivors/201803/why-do-people-blame-the-victim