by Mothers Helpers Founder Kristina Paterson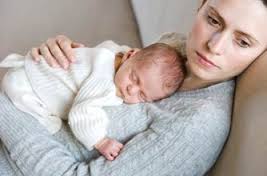 It took me 18 months to go and get some help for the way that I was feeling.  9 of those months I was anxious throughout my pregnancy but the midwife didn't pick up on it.  In the first week after my baby was born, I had a new midwife, and she said to me that if I was still crying by day 7 (hours of crying every day), then I'd have to go and see the doctor as I may have postnatal depression.  So I forced myself to stop crying.  I didn't want to have postnatal depression.  And I didn't want to have postnatal depression for the next 9 months that I avoided seeking help.  I did go and see a counsellor, but it had little impact on me.  I knew that if I went to the doctor, he would diagnose me and offer me medication that I didn't want to take.  This inability to be rational and problem-solve clearly as well as denial of the full extent of the problem is very common for mothers who experience antenatal or postnatal depression.  It's even harder if this is your first baby and you have nothing to compare your experience to.  I left it till things were really, really bad before I got help.  By that time my energy was so low that I could barely manage to get myself off the couch, I had to summon all of it just to attend to my baby's needs, the entire 12 hours or more of caring for my baby on my own while my husband was at work overwhelmed me.
When I finally went to the GP, I of course was offered medication, which I accepted.  And I felt better within a few weeks.  I didn't know at the time that medication was not a miracle cure – that within 12 months, the medication would stop working simply because I had not made any changes to my life.  I didn't know that recovery from depression required an holistic approach.  I didn't know because nobody told me and there was nothing out there that helped me to understand recovery from depression more fully or to help me make those changes.
The consequences of depression that was not diagnosed and not treated for such a long time was devastating for me.  I developed chronic (life-long) depression.  Most of the time I am well, but it means that I have to take medication and commit to holistically caring for myself in order that I stay well.  Antenatal and Postnatal Depression was definitely a contributing cause of my marriage breaking down and subsequent separation.  Tragically, it is likely to be a contributing factor of my 6 year old son's development of an anxiety disorder – the impact of which we are still wrestling with on a daily basis.  I can almost bear my own suffering in this whole story, but watching my son suffer is really unbearable.  Every family has their challenges, but the challenges I have faced are preventable, and I want to prevent this suffering from happening to you and your family.
I don't write this to frighten you.  The last thing I want to do is cause you more anxiety.  I write this because I want so much for you to get help for your depression and anxiety.  It is crucial not only to your own wellbeing, but to the wellbeing of your family.  Please go to the GP.  Please consider treatment.  Please find out more about how you can recover holistically from antenatal/postnatal depression and anxiety.  Mothers Helpers runs courses throughout Auckland and an online course that is available to anyone in the country.  These courses have proven to help the majority of mothers to recover from PND, and all of them their condition has improved.